Support NHSP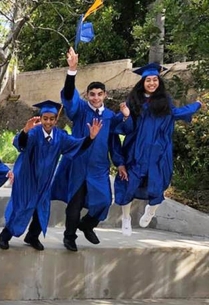 Our school's on-going growth and advancement can only be achieved through your continuous support. For over 35 years, New Horizon School Pasadena has relied on your generosity to develop innovative programs, a strong foundation for Muslim identity, and critical academic skills. The gift of education is crucial to not just one student, but to an entire generation of future leaders who can impact their world.
Join us this year in our Annual Giving Fund, "A Quantum Leap: Go Beyond the Horizon," which serves as a launching pad for our upcoming Endowment and Capital Campaign. To ensure our school's prolonged growth so students can fulfill and even surpass their potential, support New Horizon School Pasadena today.
Sofia was a struggling homeschooled student who blossomed in one short year into an inspirational role model, a strong academic achiever, and confident captain of the NHSP girls' sports team. It is the entire New Horizon experience which nurtured that remarkable transformation.